Spectacular 7 Suite, OceanFront Estate in Tropical Wilderness of Jericoacoara / CE - 1.95 Million Euros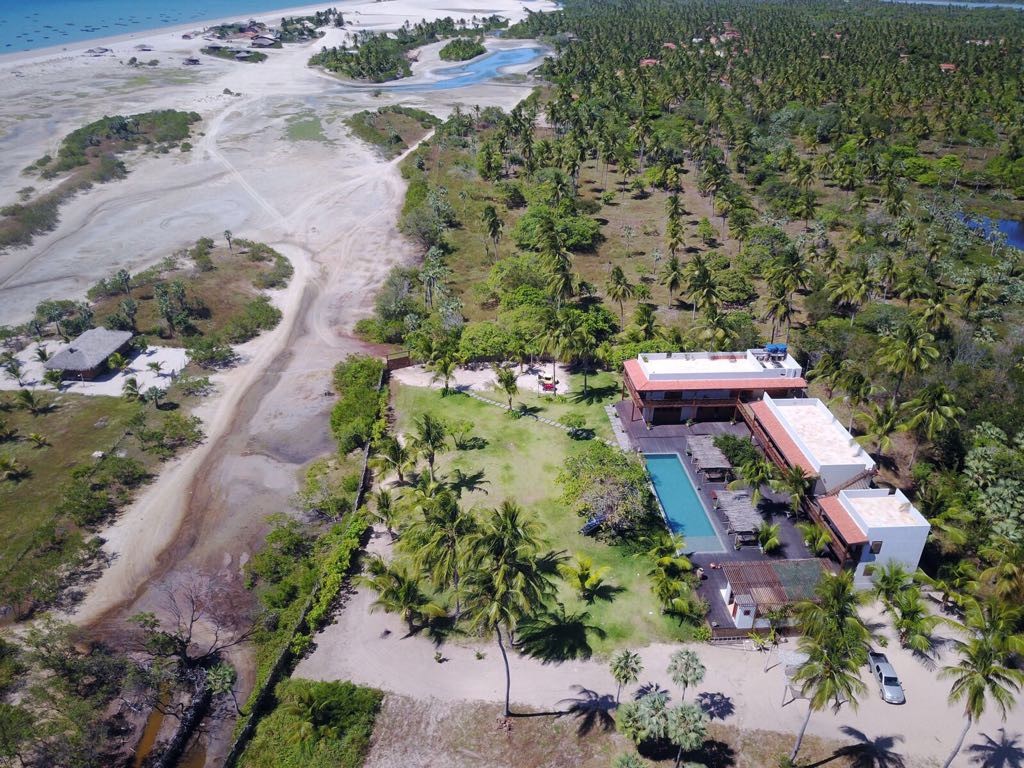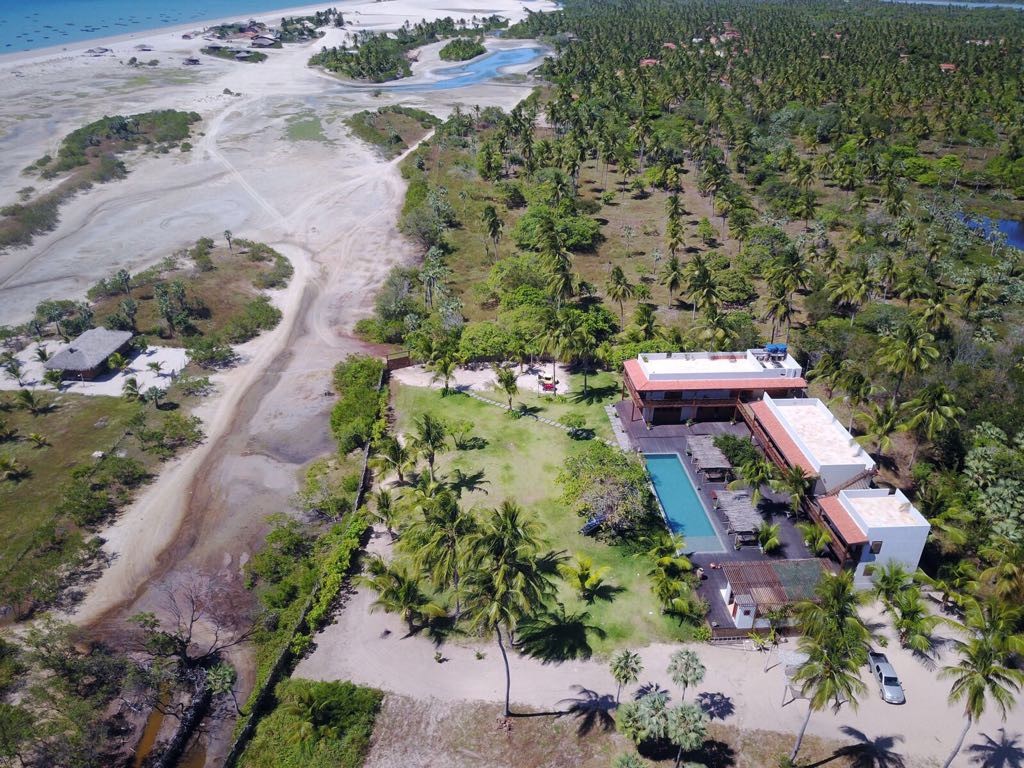 Spectacular 7 Suite, OceanFront Estate in Tropical Wilderness of Jericoacoara / CE - 1.95 Million Euros
A property with the concept POST LUXURY "the luxury not idealized in a brand or product but in services and experiences"
Located just 17km from Jericoacoara, one of the most visited destinations in Brazil and one of the best spots in the world for pratice kite and wind surfing. Neighboring to the most luxurious hotel in the region the Casana and Rancho Peixe huts complex of the highest standard.

Imbedded in a middle of a forest of palm trees and a little explored beach,the villa offers the opportunity to "reconnect with yourself" where silence, nature and tranquility are the main aids for this experience. In the middle of a luxuriant nature, synonymous with the big and beautiful Brazil.
ON 4.4 HECTARES OF OCEANFRONT LAND
Including 73 m beach width
A MAIN HOUSE WITH A SURFACE OF 1000 M2 CONSTRUCTED
INTERIOR SPACES:
• 1 master suite of 60m2, with stunning views of the sea,
including 1 large office space, 2 large Italian showers with
view and 1 toilet.
• 6 suites of 30 to 40m2, including 4 suites with a sea view.
include an office area, 1 large walk-in shower and 1 toilet.
• 1 apartment with 1bedroom with 4 very comfortable beds
of dimension 1.40 x 2.00 m, 1 room with its small living room, 1 room
bathroom with 1 toilet and 2 showers in the Italian.
• 1 very large living room with a sea view and pool
• 1 dining room with a sea view
• 1 equipped kitchen open on the living room and the dining room
• 1 library lounge facing the sea
• Several terraces in front of and between the rooms.
• 2 roof terraces accessible for a relaxation area
extra with breathtaking views of the sea and nature
lush.
EXTERIOR SPACES:
• 1 swimming pool with a dimension of 5 x 20 m
• 1 huge shaded terrace with pool beds and a small lounge
• 1 veranda with an outdoor living room with possibility of projection of
movies
• 1 veranda with a play area (ping pong)
• 1 pool-house area
• 1 kitchen / barbecue area with a bar
• 1 outdoor shower
• 1 WC
• 1 covered garage of 4 places and its car wash
• 1 small stable that can accommodate from 4 to 6 horses
OTHER AREAS:
• 1 organic orchard-vegetable offers a very wide variety of fruits and vegetables
all year.
• 1 space of culture in aquaponics
• 1 backyard composed of hens, quails, ducks, guinea fowl
• 1 space for raising sheep and pigs in the open air, for a
healthy and controlled diet.
AN APPENDIX WOOD HOUSE OF 72 M2 BUILT
• A house built of local wood in a Robinson spirit
classy, ​​with a surface of 72m2 with a wide sea view, facing the Rio de
Barrinha. This house is composed of:
• 1 bedroom
• 1 living space with 2 extra beds
• 1 kitchen open to the living space
• 1 WC
• 1 bathroom with a very large walk-in shower with a
Sea view
• an outdoor shower in the middle of the banana trees
A strawberry
• this large hut located on the beach, just in front of the house,
can accommodate and shelter several people in hammocks
for the relaxation side. It is also a rallying point
essential for kitesurfers and their equipment.
TECHNICAL INFORMATIONS
• WATER: the house is connected to the water of the city, but we have
privileged the creation of 2 wells to feed the house and the
organic crops, because the groundwater offers drinking water from
exceptional quality.
• ELECTRICITY: a specific installation has been set up in order to
benefit from electricity in three-phase mode, with control of
actual consumption. A generator is also
available to take over if needed.
OPERATING COSTS: 3.000 Euros / month
• 6 permanent employees
• Complementary feeding of animals
• Electricity
FOR AN EXCEPTIONAL QUALITY OF LIFE:
The main objective was to make every effort to offer everyone a
quality of life exceptional and rare these days keeping in mind the notion
of "the Essential". Whatever his age or physical condition, this is a place of life for ALL.
We privileged:
• An architecture offering discretion and respect for the privacy of
occupants on a plot of 4.4 hectares.
• Noble building materials and a neat decoration
• A building in the middle of a luxuriant nature, synonymous with the big and
beautiful Brazil.
• Willingness to go beyond sleeping arrangements, with an invitation to
adhere to a philosophy of life privileging well-being as well
physical than psychological.
• A geographical location offering all the advantages of the sea and the
Earth. Indeed, kitesurfing or fishing for shrimps and lobsters
can be practiced right in front of the house.
• The presence of horses, a mule and a donkey allows for magnificent
ballads on the beach and in the dunes of Barrinha.
SEASONAL RENTAL :
Flor Da Vida is a place very appreciated by a Brazilian clientele and
looking for an environment that is not invaded by tourism from
mass, not far from Jericoacoara.
The rental price of the main house for the year 2018 has varied from
47,000 to 200,000 reais for a stay of 7 days.
ACCESS:
• Jericoacoara International Airport at 7km
• Fortaleza Airport + 4/4 transfer or helicopter.
THE REGION :
• The Nordeste
• Zone Jericoacoara - Préa - Barrinha
• Jericoacoara is a fishing village, located in the middle of a
beautiful natural park ranked 5th in Brazil in terms of attendance.
• Top 10 most beautiful beaches in the world according to the Washington Post